100% of our departments are standardised under ISO version 2015 and OHSAS version 2007.
Dedicated teams, an exclusive fleet
and innovative information systems
Thanks to the commitment of our teams, our fleet of vehicles and the power of our onboard information systems: we have full control of each and every one of your transport missions.
INNOVATION
AT YOUR SERVICE
To deliver your goods, we use the latest-generation, most secure and most environmentally-friendly vehicles.
The information systems, onboard Cetup commercial vehicles, are the most innovative and reliable on the market.
A specific fleet of eco-responsible vehicles
The Cetup fleet
Standard vans (with or without tailgate) – Vehicles accredited for the carriage of explosives (EXIII) and ADR –
Vehicles with secure side loading – Electric vehicles – Electric vehicles with hydrogen battery – Bioethanol vehicles.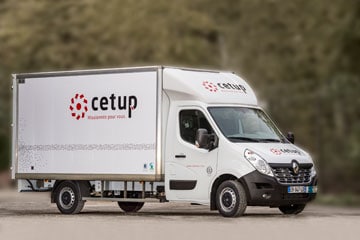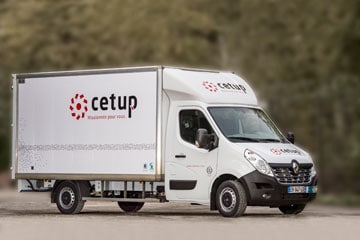 Master closed box truck
T6 type vehicle / 20 m3
Payload of 700 to 950kg
Side loading and tailgate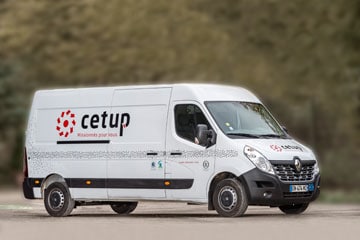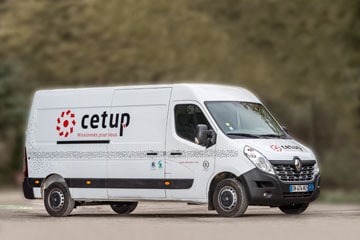 Master
T4-T5 type vehicle / 12 m3
Payload 1150 to 1350kg
Tailgate loading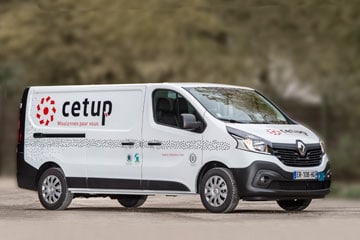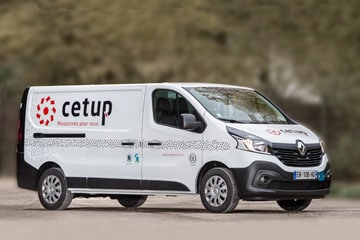 Trafic
T2 – T3 type vehicle
Payload 1050kg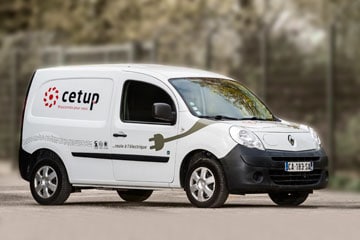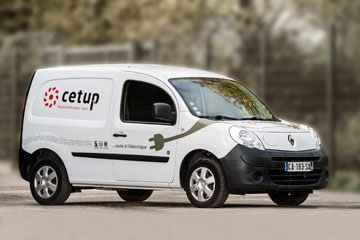 Kangoo ZE H2
Electric engine coupled with hydrogen battery
T1 type vehicle
Payload 400kg
Our fleet is made up of 210 recent vehicles manufactured by the French firm Renault. They are ultra-equipped and undergo regular checks. Since 1988, protecting the environment has been a core concern for us: 30% of our urban driving distances are completely carbon-free and all our combustion engine vehicles comply with Euro VI emissions standards.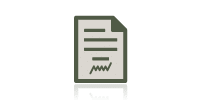 French contracts


for our staff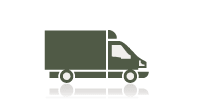 owners of our own


light vehicle fleet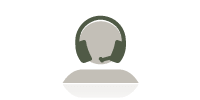 equipped and committed


to guarantee the success of your missions
LOOKING FOR TRANSPORT TAILORED TO YOUR NEEDS?
Immediate deliveries, carriage of sensitive or hazardous substances,
high added-value or highly strategic products.
Cetup Operators and Pilots, at your service 24/7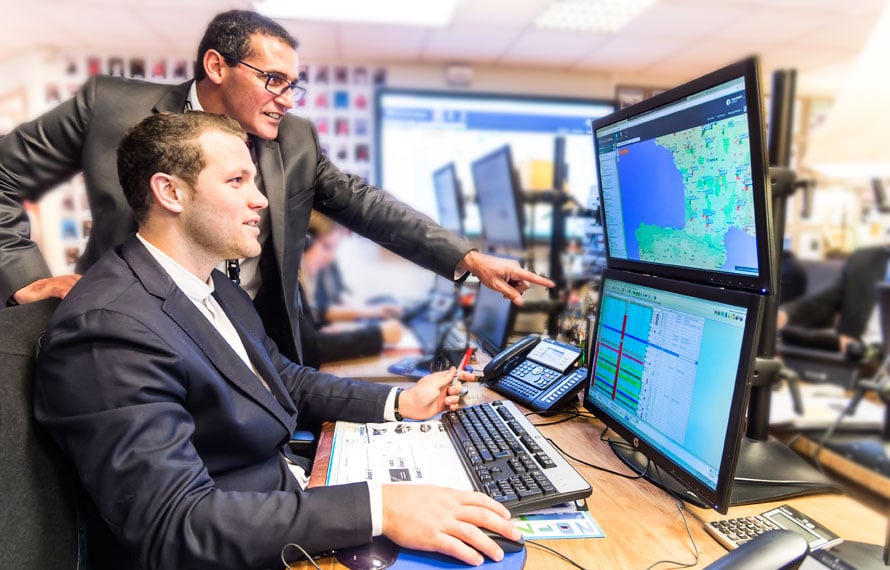 Our Operators
Our Operators are on duty 24/7 in Cetup's head office. Together with you, they will build a transport plan that fully meets your needs and complies with the regulations in force.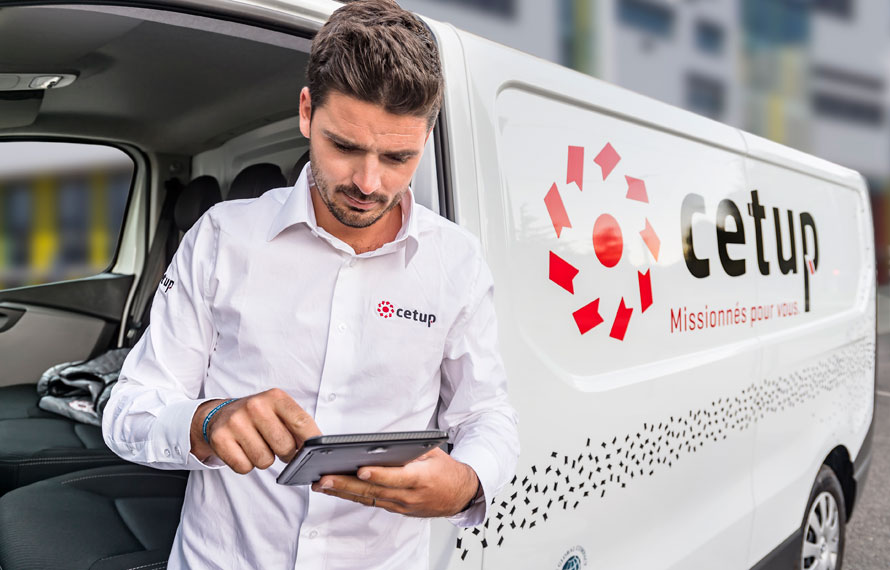 Our Pilots
Deployed throughout France, our Pilots are availably round-the-clock, at any time of the day or night. They transport goods in France and internationally.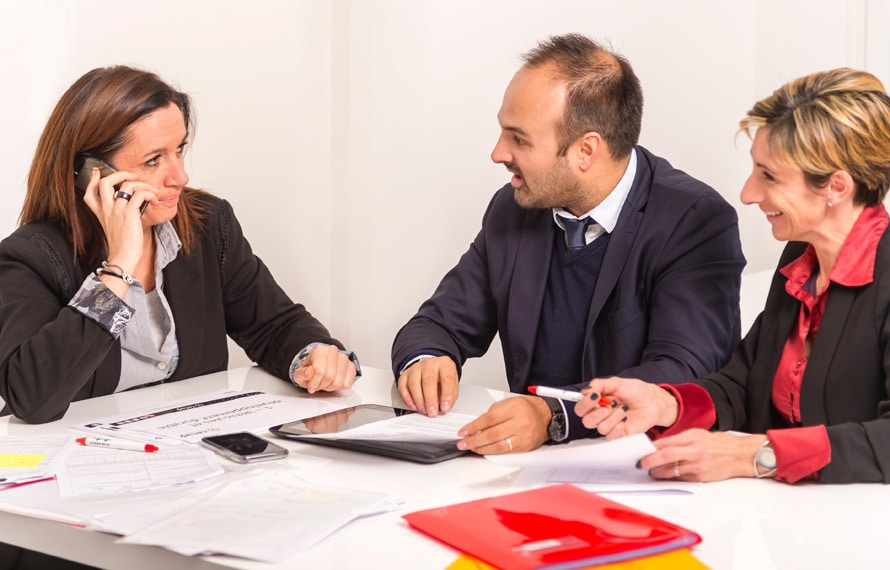 Our administrative teams
The head office teams provide ongoing support for operators, and to pilots on the road. They conduct the quality, safety and environmental review of each transport mission.
Constantly striving for excellence
We have full control of our production tool and review all of our processes on a daily basis, in the aim of providing you with the best possible service.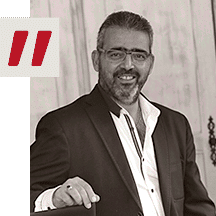 "We track your deliveries in real time"
Using GPS capability and various computer tools, our controllers and operators track the delivery of our goods in real time. They work closely with Cetup pilots, who are trained to notify us of any issues on the road. In the event of postponed delivery, our operators contact the customers without delay. Our aim: provide you with custom transport solutions, from pick-up to delivery of your B2B shipments.

Jean-François Commis – Co-Head of Operations Team
"We advise our customers and anticipate their requirements"
Some businesses are well-versed in shipping goods: we incorporate each of their requirements into their request. Other customers appreciate advice. Our thirty years of experience in dedicated transport allow us to devise the solution best suited to their needs. Most of our customers contact us to access sensitive sites. Cetup pilots are an integral part of the business and are all accredited to enter these secure areas. We can forward their personal details promptly, before they arrive on-site.
On a daily basis, we use the information gleaned from listening attentively to our customers to devise our custom transport solutions.
Maxime Miquet – Head of Customer Team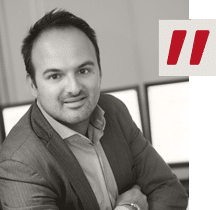 They have placed their trust in us